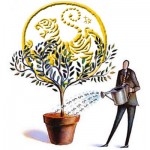 This section is devoted to individuals, corporations, foundations and charitable trusts, that recognize the social, artistic, and cultural benefits of making a sizable contribution ($5,000 or more) to help Shotokan Karate of America fulfill its mission, which is "to preserve, perpetuate, and advance the legacy of Shotokan Karate for the betterment of the lives of those who train, and to contribute positively to human history."
SKA is a nonprofit educational organization with over 140 dojos (practice halls) in the United States alone, as well as international affiliates around the world.
A Brief History of Karate
The origins of karate can be traced back some 1400 years, to Daruma, founder of Zen Buddhism in Western India. Daruma is said to have introduced Buddhism into China, incorporating spiritual and physical teaching methods that were so demanding that many of his disciples would drop in exhaustion. In order to give them greater strength and endurance, he developed a more progressive training system, which he recorded in a book, Ekkin-Kyo, which can be considered the first book on karate of all time.
The physical training, heavily imbued with Daruma's philosophical principles, was taught in the Shaolin Temple in the year 500 A.D. Shaolin (Shorin) kung-fu, from northern China, was characterized by very colorful, rapid, and dynamic movements; the Shokei school of southern China was known for more powerful and sober techniques. These two kinds of styles found their way to Okinawa, and had their influence on Okinawa's own original fighting method, called Okinawa-te (Okinawan hand) or simply, te. A ban on weapons in Okinawa for two long periods in its history is also partly responsible for the high degree of development of unarmed fighting techniques on the island.
In summary, karate in Okinawa developed from the synthesis of two fighting techniques. The first one, used by the inhabitants of Okinawa, was very simple but terribly effective and, above all, very close to reality since it was used throughout many centuries in real combat. The second one, much more elaborate and imbued with philosophical teachings, was a product of the ancient culture of China. These two origins explain the double character of karate–extremely violent and efficient but at the same time a strict and austere discipline and philosophy with a nonviolent emphasis.
Master Funakoshi
Master Gichin Funakoshi was the first expert to introduce karate-do to mainland Japan, in 1916. One of the few people to have been initiated into all the major Okinawan karate methods, Master Funakoshi taught a synthesis of the Okinawan styles, as a total discipline. This method became known as Shotokan (literally "House of Shoto," Funakoshi's pen name). Because of the great popularity of the style in Japan and, later, around the world, Funakoshi is widely considered to be the "father of modern karate-do."
Tsutomu Ohshima
Tsutomu Ohshima was one of Master Funakoshi's last direct pupils (1948-1953), studying under him while attending Waseda University in Tokyo, Japan. In 1955, Mr. Ohshima came to the United States and was the first person to teach karate to the U.S. public. By 1959 the Southern California Karate Association (SCKA) was formed with Tsutomu Ohshima as Shihan (chief instructor). Over the years, SCKA grew into a nationwide organization, Shotokan Karate of America. Tsutomu Ohshima is also recognized as Shihan of many other Shotokan international affiliate organizations.
The Benefits of Shotokan Karate
It has long been documented that training in karate as a martial art benefits the practitioner in many ways. Our traditional training method is designed to not only advance physical self-reliance, but also to develop the student's character. A person who is committed to vigorous karate practice will mature mentally, physically and spiritually.
On the cover of SKA's brochure, Master Funakoshi is quoted, "The ultimate aim of the art of karate lies not in victory or defeat, but in the perfection of the characters of its participants." Mr. Ohshima states that, "…karate training soon teaches that real strength is facing oneself strictly, with severe eyes. This is the first condition of martial arts training."
The Shotokan Ohshima Dojo
In 1980, SKA established the goal of building an international dojo. Over the ensuing 20 years, our members, foreign affiliates, friends and supporters collectively donated over two million dollars toward that effort. Land was purchased for the site in the mountains overlooking the Pacific Ocean near Santa Barbara. The grand opening of the Shotokan Ohshima Dojo was celebrated during August 2000. Since then Shotokan Ohshima practitioners worldwide have gathered to practice and advance their knowledge of our discipline. Regular classes are held for all ranks, ages, women, kids, as well as for advanced aspects of training. Mr. Ohshima teaches a majority of these classes.
The center is an international gathering place…and a symbol of what can be achieved when people work together toward a common goal. Here, for years to come, each generation will gain in the experience necessary to pass on the traditional teachings of Shotokan Karate to younger students, who will, in turn, mature and teach the next generation.
Outside Support
During the final stages of development in Santa Barbara, our group foresaw the advantages of reaching out to all types of organizations to ask for financial support. Our requests for funding have taken on two distinct forms: General Operating Support and Capital Campaign. General Operating Support will help us continue to maintain and expand membership, while modernizing and increasing efficiency. Our Capital Campaign is designed to provide additional support of approximately $100,000 per year to maintain and preserve the Shotokan Ohshima Dojo into the future.
Closing Thoughts
Passing knowledge on to future generations is essential in the martial arts. Your financial support makes a positive statement: you will help give SKA the ability to continue the offering benefits of karate to current and future generations of young adults searching for a proven path of self improvement.
We thank you for your thoughtful consideration and look forward to adding you to our growing list of supporters and extended family. All contributions to Shotokan Karate of America qualify as tax deductions.
To discuss giving opportunities with an SKA representative, please contact Kei Teramoto at 213-437-0988 or Christopher Hunt at 818-346-6042; by email at ; or by mail at SKA Headquarters, attention Kei Teramoto, 222 S. Hewitt Street, Room 7, Los Angeles, California 90012.